A Moment In Wild Horse History
The Story of Wild Horse Annie
And the Law Protecting Wild and Free-Roaming Horses and Burros
"The greatness of a nation can be judged by the way its animals are treated."

~ Mahatma Gandhi
Velma Ann Bronn Johnston loved horses. She loved them so much she became an activist to try to stop the removal of wild horse and burro herds from public lands, earning her the nickname of Wild Horse Annie. She became instrumental in the passing of The Wild and Free-Roaming Horses and Burros Act of 1971.
Wild Horse Annie
Annie was born in Washoe County, Nevada in 1912 to rancher parents where she grew up loving life on the ranch. The story is told that she became involved in the fight for wild horses and burros after she saw blood running from a truck overloaded with horses on its way to a slaughter house. The horses inside the truck had bloodied each other because they were so crammed together. After investigating and becoming outraged at their slaughter, she began speaking to civic groups, schools and others to bring awareness to the public about their cruel treatment. She knew she had to take some action, so she never let up in her attempt to bring this cruelty to the forefront of the nation's people. She spoke wherever she could find an audience, on a city street, on a tree stump, or in a conference room, she told the story of the nation's wild horses, with a passion borne of desperation for their care.
Wild Horse Annie Helped Create An Act Of Congress
Finally in 1971, due to the work of Wild Horse Annie and other activists, the Wild and Free-Roaming Horses and Burros Protection Act of 1971, an act of Congress, was signed into law by President Richard M. Nixon. It was designed to prevent roundups of these wild animals by aircraft and vehicles, requiring the departments of the Interior and Agriculture to protect them, making it a criminal offense for anyone to harass or kill feral horses or burros on federal land. It also permitted public land to be set aside for their use and permitted the Bureau of Land Management to close public land to livestock grazing to ensure the protection of wild horses and burros. This was truly a landmark ruling in favor of these animals.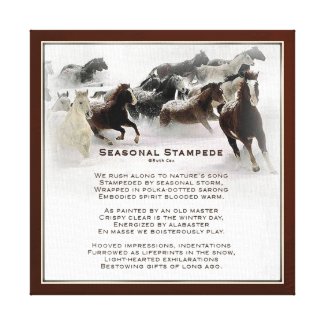 Seasonal Stampede Gallery Wrap Canvas
by
abitosunshine
Visit Zazzle for
printing canvas photos
What Happened To The Law?
Today, this law is virtually ignored by the Federal Government as they continue harsh, cruel roundups to remove all horses and burros from the range lands, so the cattle ranchers can graze their cattle without giving up a blade of forage to a wild horse. Ranchers have been known to fence off watering holes, so the horses can't get to water. Then when their cattle are there, they open the water holes for them. There's a huge ranchers political lobby that continues to prevent wild horses from surviving, with whatever means they can employ. Slaughter houses have been reopened in the states that have been closed for decades. Fortunately, one in New Mexico was recently shut down after previously being given permission to open. But the roundups go on. The horses are often shipped to Mexico or Canada, to be butchered for food for Europeans, who find horse meat a delicacy. These are the descendants of the horses who carried us in the war to win this country, who helped us settle the west, who carried us into battle in WWI. Yet, now they are a nuisance, and no longer needed. For shame, on a country that cares more for its wallet than for the lives of these magnificent animals.